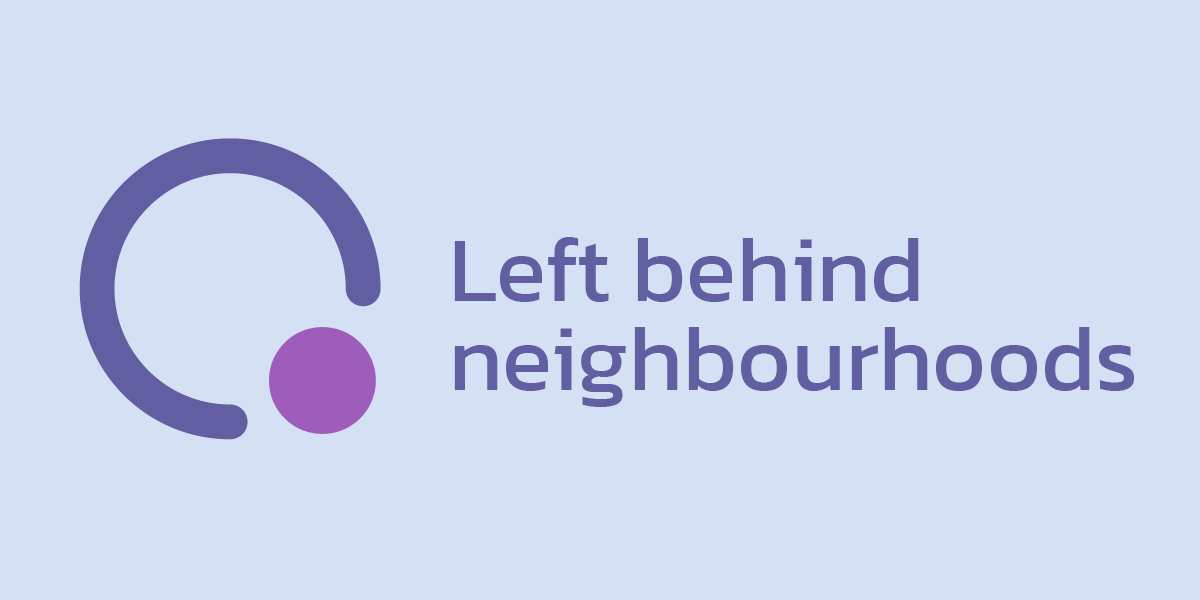 Our research with Local Trust, on 'left-behind' areas, contributed to the creation of an All Party Parliamentary Group (APPG) for 'left behind' neighbourhoods.
The APPG is a cross-party group of MPs and Members of the House of Lords and is co-chaired by Dame Diana Johnson DBE MP and Paul Howell MP.
It is committed to improving social and economic outcomes for residents in communities that suffer from a combination of economic deprivation, poor connectivity, low levels of community engagement and a lack of community spaces and places.
We have been commissioned to provide and present evidence on a series of topics to support the APPG with its objectives.
These evidence pieces provide detailed analysis, taking 'deeper dives' into data on specific thematic issues across 'left behind' areas including:
Impact and risk factors associated with the COVID-19 pandemic

Employment and training

Health (physical and mental)

Connectivity
The findings from the first data dive on COVID-19 have already been published and you can read a summary of the key findings on our blog.
Read on for insight into the next two data dives on Economy and Connectivity, and sign up to our mailing list to ensure you are alerted when findings are published. 
Economy 'data dive'
This data dive looks at a range of socio-economic data to provide an understanding of the economic characteristics of 'left behind' areas. 
The analysis explored the shape of the economy across the following themes:
Employment and worklessness:

Exploring those who are in employment whilst comparing levels of full-time, part-time and self-employment and those who are out of employment and the primary reasons for people being out of work

Jobs and businesses:

 Density and type of jobs available locally, the types of employment people are engaged in, the businesses operating locally and the extent of employment space in the area

Education, skills and qualifications:

Education, skills and qualification levels of people in 'left behind' neighbourhoods

Travel to work patterns:

Distance and methods in which people in 'left behind' areas and their comparators travel to work and is a useful measure of the infrastructure and connectivity surrounding the workplace economy in the local areas.
Connectivity 'data dive'
This data-dive focuses on specific challenges in 'left behind' neighbourhoods concerning access to services and transport. We are exploring connectivity in terms of:
 physical distances from services

provision of transport and travel times

access to private transport

methods of travel

 digital connectivity 
The analysis will also look at how these interact, for example, exploring whether there are areas experiencing the dual disadvantage of low car ownership and long travel times to key services by public transport.
How the research will be used
Findings from the Economic data dive have been shared with the APPG group to help inform policies to address economic challenges in 'left behind' areas and identify areas needing the most support.
For the Connectivity data dive, Campaign for Better Transport (CfBT) will use this information to inform a final report to highlight the increasingly important nature of the relationship between transport and digital connectivity.
We are excited to continue working with Campaign for Better Transport and Local Trust to identify a number of 'left behind' areas for case studies. These will focus on areas with poor public transport connectivity, the impacts for residents and the underlying contributing factors. The case studies will be used to illustrate hyper-local and community responses to poor connectivity – such as transport action plans and flexible on-demand bus services. 
Find out more about our research services.
---
Featured posts